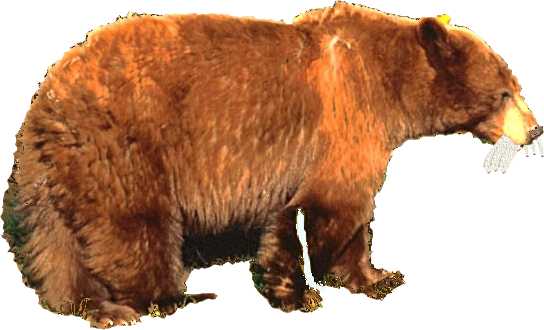 Daniel 7:5 -  "And behold another beast, a second, like to a bear, and it raised up itself on one side, and it had three ribs in the mouth of it between the teeth of it: and they said thus unto it, Arise, devour much flesh."

The bear represented Medo-Persia, which was a kingdom made up of Medes, who lived in the northern part of what is today Iran, and Persia, which is the southern part of Iran of today.  Elam was a third part of this kingdom, but it was only a minor player in the kingdom.  On the bear, one shoulder (or possibly one paw, depending on the interpretation of the original language) was raised up, indicating one would be dominant over the other, which turned out to be the case.  The Medes were dominant initially, but eventually the Persians came to dominate the Medes.

The 3 ribs in the bear's mouth are believed to symbolize the 3 steps of conquest that Medo-Persia did in creating an empire.  The 3 steps were the conquest of Lydia, Babylonia, and Egypt, in that order. 
See ram for more historical details
.  This is an example of the
Characteristics Principle
- the 3 ribs tell us something about what this power would do.
Note: Time moves forward

from left to right on the arrow

Click on arrow to go to

next beast of Daniel 7


<! box encasing the picture and associated text >